Welcome to the

Cut the Rope is a physics-based puzzle video game for several platforms and devices, released on October 4, 2010. The game was developed by Russian company ZeptoLab. Read more about the game.

Toss
is a
Nommie
helper character in
Cut the Rope 2
. She is the fourth Nommie that
Om Nom
meets in the game, and is first found in the City Park. She is currently the only female character in the game so far.
Read more...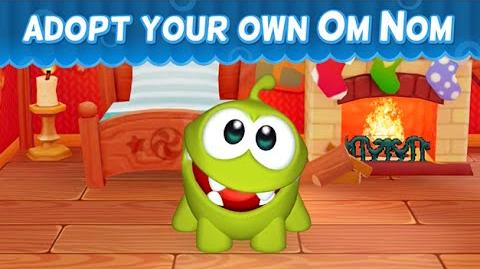 Winner of the previous poll: Most of you like Candy and Lollipop in Cut the Rope.
Which level do you like best in the Bakery?
Want to suggest an upcoming poll? Go to Featured Poll now!
The magic editor of the Cut the Rope Wiki!
To create a new article, please enter the new article's title at the box below. Then press the Create! button to start create.

December 2014 - My Om Nom is released! 
December 2014 - 24 brand new levels came to the Bakery in Cut the Rope 2 with a brand new Om Nom Stories along with Ginger, the burny new friend!
December 2014 - My Om Nom is announced and for the first time, introducing Om Nelle, the female Om Nom!
December 2014 - Cut the Rope: Holiday is released again, for a limited time with Paddington!

Create blog post
Blogs
Hi, I am Krett12 (known as BraidUser on Wikia) and love the Cut the Rope wiki---but would like a place to discuss it, and think CTR forums should be created, and while we are at it--use a MediaWiki platform on the host to rid ourselves of ads. Please give me your opinion on the talk page.

Read more >

Hello ,

Update: Difficulty for each Cut the Rope box has been determined.

Iff you disagree with the difficulty of a certain box, please explain why at Talk: Difficulty System.

Please be sure to also determine a difficulty for each episode of Experiments, Time Travel and CTR 2.




Thank You.

Any bad languag…

Read more >
See more >