Fruit market is the sixth place in Cut the Rope 2. It introduces Snailbrow, the one-eyed snail who loves fruit. He moves when something hits him or when he is tapped. In episode 27th episode of Om Nom Stories,fruit market,Om Nom got in the market and met Snailbrow. The fruit market consists of apples,durians,an unknown spiky purple shell fruit,pears,oranges,melons,chilli peppers,bananas and celery.
other notes
the swinging fruits were the purple shell fruit,durians and apples.
snailbrow lives there
on a bucket of celery,it says '0.50' in the episode "fruit market".
goofs
when snailbrow is hit sometimes when he is stopped, sometimes he isn't come out of his shell but still moves.
candy can balance on snailbrow although it is round and would fall off.
in the episode,the fruits occasionally switch places.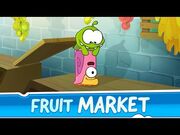 Ad blocker interference detected!
Wikia is a free-to-use site that makes money from advertising. We have a modified experience for viewers using ad blockers

Wikia is not accessible if you've made further modifications. Remove the custom ad blocker rule(s) and the page will load as expected.