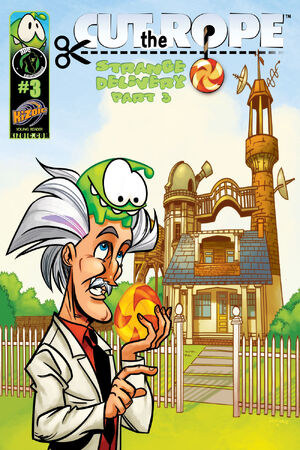 Strange Delivery
Interlude (Strange Delivery Part 3) is the third comic in Cut The Rope: the Comic. This is the first time that Om Nom is seen without Evan.
Trivia
This is the first time Om Nom is without Evan. First comic appearance of the Professor . A scientist (or something close to one) was seen in the comic. This comic is based on Cut The Rope: Experiments. A comic after this one has not yet been made, making this comic the last one in the app to date. There was a "The End" on the last picture of the comic, hinting that this comic might be the last one (including the fact that a future one hasn't been made yet, but Part 4 will be out in the future ).
Gallery
Ad blocker interference detected!
Wikia is a free-to-use site that makes money from advertising. We have a modified experience for viewers using ad blockers

Wikia is not accessible if you've made further modifications. Remove the custom ad blocker rule(s) and the page will load as expected.