Superpowers are special abilities of Om Nom that facilitate the gameplay and allow the player to pass the level easily.
After the player activates the superpowers, the gameplay changes drastically.
The candy can no longer break into pieces or leave the screen. Spikes and other obstacles cannot damage the candy. Therefore, the player cannot lose the level.
The player can tap and hold the screen to move the candy in any direction he wants.
A fourth star with blue color appears in the level.
Om Nom changes his appearance to resemble a superhero.
The effect of moving the candy can be similar to toggling gravity in Cosmic Box.
By default, new players are given three portions of superpowers to help with some particularly difficult levels. More superpowers can be bought via in-game purchases. Since some update, the original game offers some superpowers to players who launch the game regularly.
Gure hop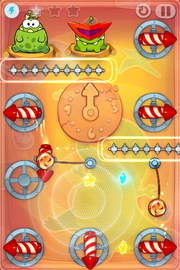 galeto
Note traffic no
Ad blocker interference detected!
Wikia is a free-to-use site that makes money from advertising. We have a modified experience for viewers using ad blockers

Wikia is not accessible if you've made further modifications. Remove the custom ad blocker rule(s) and the page will load as expected.