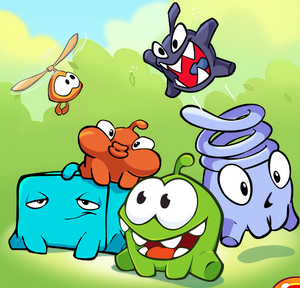 The Nommies are the new monster friends of Om Nom introduced in Cut the Rope 2. They are monsters who resemble Om Nom and help him complete the levels. Om Nom himself is probably also a Nommie. Also, they're probably Om Nom's young family. In future updates, there will be more Nommies in the game to help Om Nom.
Nommies
Ad blocker interference detected!
Wikia is a free-to-use site that makes money from advertising. We have a modified experience for viewers using ad blockers

Wikia is not accessible if you've made further modifications. Remove the custom ad blocker rule(s) and the page will load as expected.